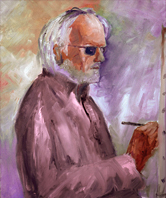 Jacques Andriessens
I believe in the value of personal expression, the value of being oneself, in the expression in contact with life, external and intimate.

I like the freedom of non-figurative expression, while letting myself be influenced by the real world and especially by nature. This allows me to express the emotion created by a landscape rather than representing the landscape in a descriptive way.


I consider that the distinction between figurative and "abstraction" is a little bit artificial, the reproduction in a painting of an object, a landscape is insufficient.
I have a tendency to unify them as long as it contributes to the expression. The famous "this is not a pipe" of Magritte reflects this idea.

The themes of my paintings are directly inspired by my living experience, by the natural environment and by the society around us, be it political. Sometimes the themes of my paintings are philosophical, comments on the news which I like to share with others. I believe that painting must reflect the world we live in.

My formal training as a painter includes courses in the history of art at the Louvre, courses in modern art at the Orangerie in Paris. Simultaneously I worked for five years at the Conservatory of Fresnes, the workshops of the Court Roland, Virginie Nègre, while following annual courses with reputed painters, the last being in Bad Reichenhall, Germany with Peter Casagrande.
From these experiences I have developed my approach. I believe in "communication" as an implicit value of painting, the expression of emotions, ideas. I consider that colour is important in this respect. I think the style follows the subject and the intention of the painter rather than the other way around.

I am constantly exploring new techniques, new topics in both oil and acrylic.

I was born in Flanders but my life developed internationally within the European Union and the United States. Rubens, Van Dijck, Bruegel, the Dutch painters but also Magritte, Delvaux, Permeke, Ensor, Van Gogh were part of my youth. My Flemish education was further enriched by further education in the US and living and working contacts within the 17 countries of the European Union.