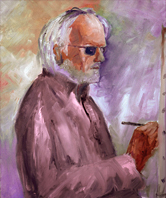 Jacques Andriessens

Je crois à l'expression personnelle, hors "mode", au fait d'être soi-même, en accord avec la vie intérieure et extérieure.

J'aime la liberté d'expression non-figurative, influencée par le monde réel et la nature.

Je crois à la valeur de communication d'un tableau, à l'expression des émotions, des idées, moins à la description de l'environnement.


Je considère que la couleur est importante comme moyen de communication, le style suit le sujet et non l'inverse.



I believe in self-expression, independent of "trends", in being one's self, in tune with inner and outer life.

I like the freedom of non-figurative expression, influenced by the real world and nature.

I believe in the communication value of a painting, in the expression of emotions, ideas,
less in the description of the environment.

I consider colour to be important as a means of communication.

Style follows the subject and not the other way around.